---
Hurrah! It's Time To Celebrate... Al Fresco Dining with Friends & Family
Has Arrived
---
With the weather warming up, it's a gorgeous time to head outside, but there's a real chill in the air that sets in after dark. Thankfully, there are plenty of ways to stay warm and dry outside while you're enjoying a delicious Easter feast, including bundling up with sheepskin rugs and preparing for rain.
This year will be a bit different from usual, but we have some brilliant ideas to create an alfresco Easter meal that everyone will remember.
While you might think of burnt sausages and sloppy burgers, a foodie barbecue renaissance means that there are plenty of ideas out there for a gourmet barbecue meal. Not only will this prevent you from having to traipse in and out of the kitchen, but you can also show off your skills on the grill.

For something different, try a zesty marinated Greek leg of lamb, slow-cooked over the grill and served with delicious lemony potatoes and a fresh feta salad. Or you can fit your barbecue with a rotisserie attachment and slowly grill an entire chicken, served with homemade bourbon beans, cornbread, and spring greens.
Consider different themes for your outdoor Easter meal
If you want to make your Easter meal (and first social gathering in a while) extra special, consider a themed table setting.


Mad Hatter's Tea Party

Hoping to impress some kids (and kids at heart) this Easter? Take your cue from Lewis Carroll and set up your table as an Alice in Wonderland mad hatters tea party. Think bright colours, spring flowers, whimsical crockery – and don't forget the clocks!
Easter Celebration

Nothing is more fun than an Easter celebration, complete with pastel colours, flowers, and, of course, Easter Eggs. Decorate each setting with a simple Easter coloured placemat but ramp up the fun side with classic papier mache German style easter eggs and colourful Easter themed napkins.
Keep It Natural

We love the look of a subtle table decorated with muted colours and naturally sourced materials. Line the benches and chairs with soft, natural undyed sheepskin rugs. We've kept it simple here, using crisp linen napkins with a real crystal geode to keep them in place and to add a bit of sparkle to the occasion. Stemless wine glasses keeps it looking earthy while the succulent centrepiece keeps it alive and vibrant.
Dining A Deux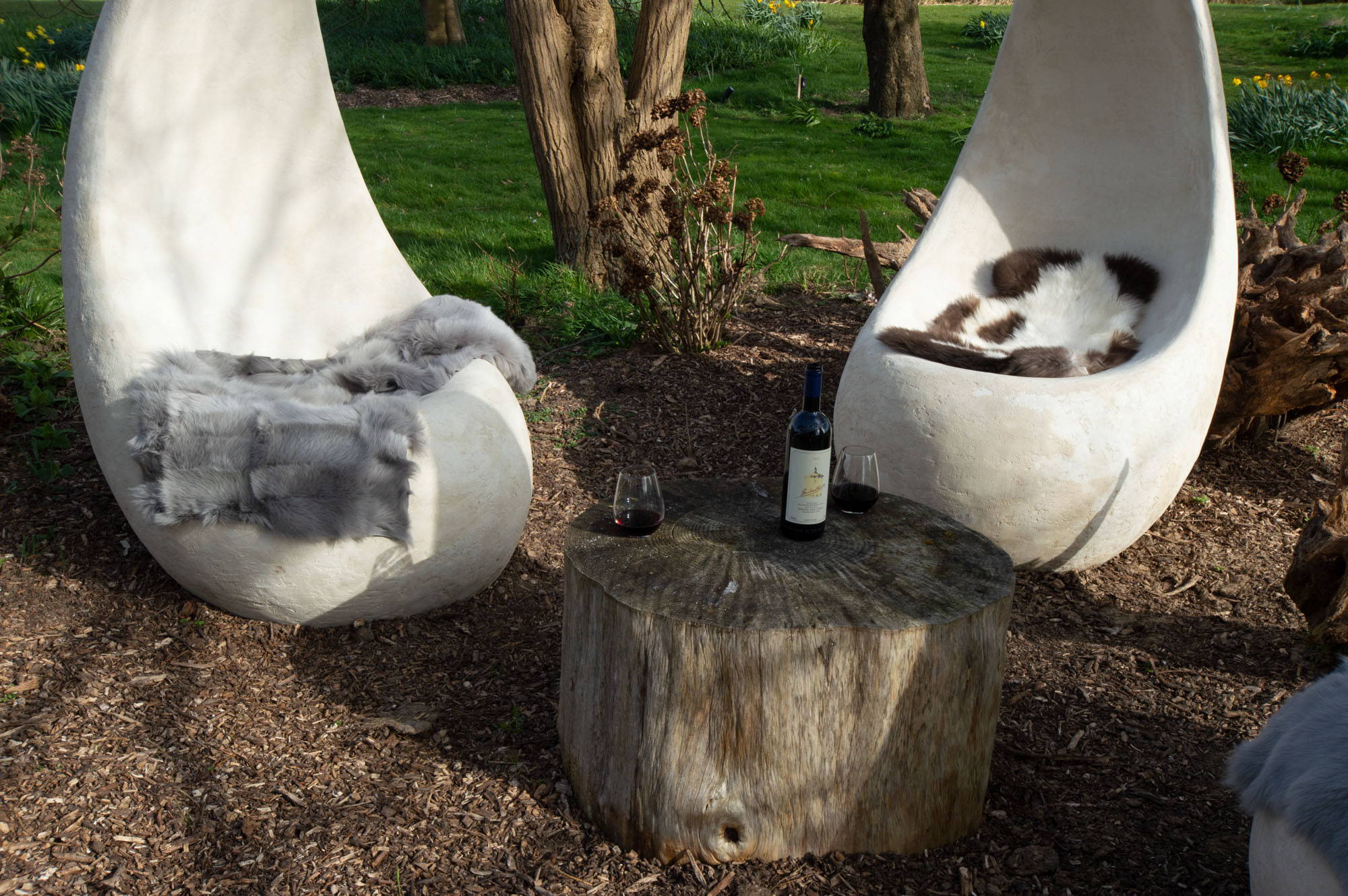 Of course, you might not be enjoying your Easter meal with family or friends – maybe it is just you and your partner. Set up a romantic table outdoors. Keep it simple and dramatic. A good bottle of wine is all you need.



Speaking of weather, even the sunniest April day will get chilly when the sun sets. Thankfully, you have plenty of options to keep everyone warm and toasty so the wine can keep flowing and the conversation going!
Make your garden magical with lighting.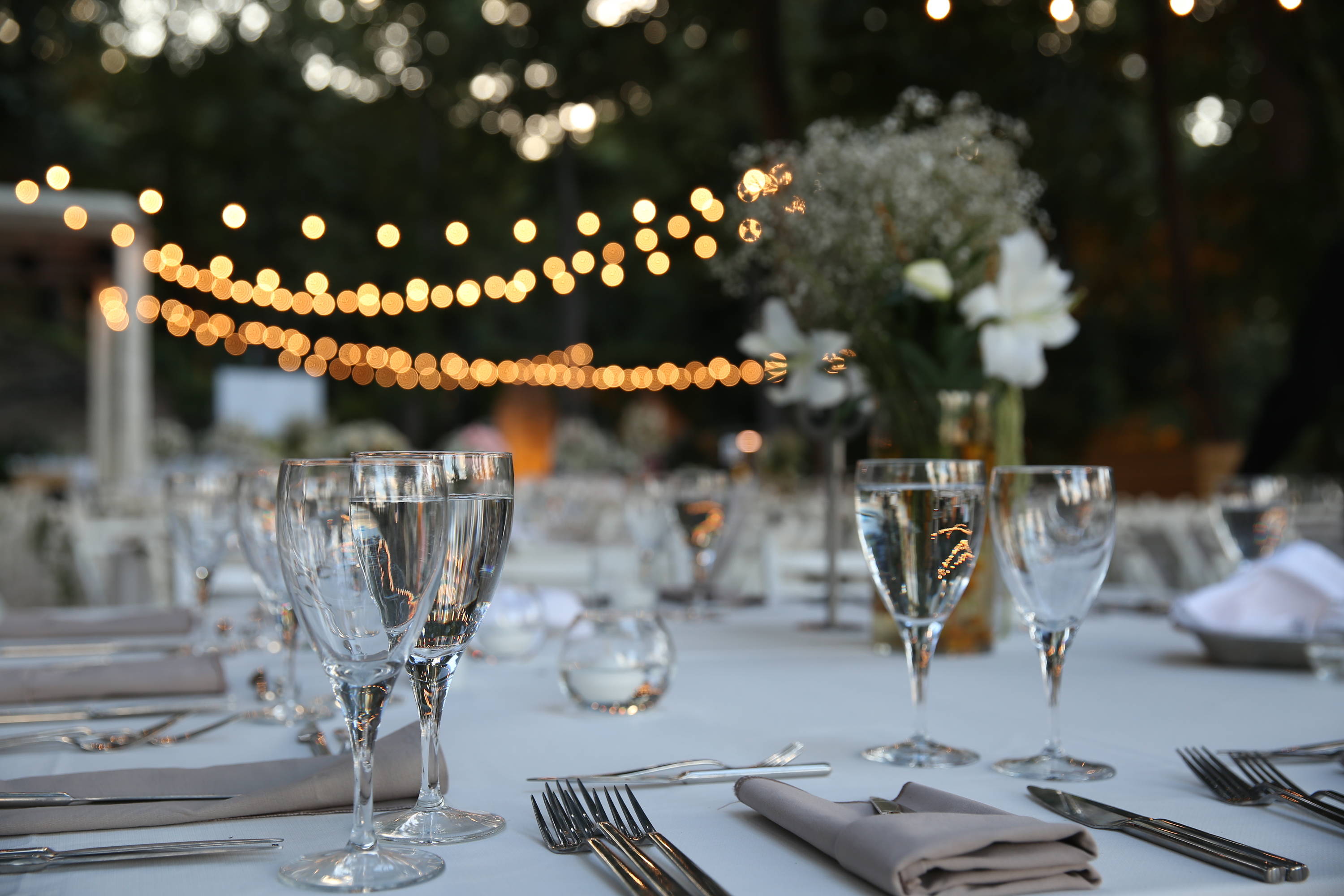 Part of the magic of al fresco eating is the twinkle of lights, fluttering in the trees. Drape your trees and bushes with fairy lights, set up tiki torches lining the pathways, and dot candles around the table and ledges. You'll catch your guests' oohing' and 'ahhing' at the softly glowing orbs of light.  
No matter how you choose to celebrate this Easter, make sure you stay safe, dry, and warm with your friends and family. With delicious food, flowing drink, and warm sheepskins to keep you cosy and happy, no one will want the night to end!